Lean Six Sigma Curriculum For New Jersey High School Students

Our students benefit greatly from training, but our teachers would benefit far more from constant support and education. Hiring Lean Six Sigma Experts of New Jersey will help solve many of the challenges that people in the education field face.
Schools sometimes claim that they must cut costs, but in fact, they must reduce waste. Rather than eliminating services, they can look at opportunities to save costs by improving redundant systems. We'd teach them how to do it in a Lean Six Sigma certification course.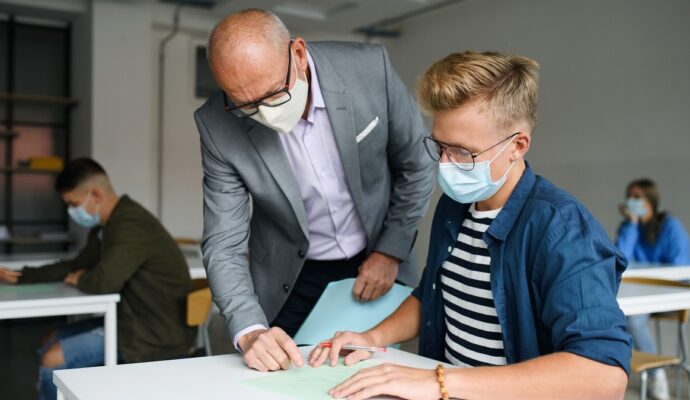 What is Lean Six Sigma (LSS)?
---
To address and provide a long-term solution to a dilemma, Lean Six Sigma Experts of New Jersey employ a systematically structured problem-solving method that heavily relies on teamwork. It focuses on continuous improvement by reducing additional expenses, focusing on customers, and improving efficiency. About every industry in the world recognizes the Yellow Belt and Green Belt certifications. Organizations that have effectively applied this approach succeed in stable markets, recruiting more employees, and lowering costs.
LSS is divided into five stages; students take the opportunity to make a difference and use the tools they've learned in school over time. This benefits not only the students, but also the teachers, classes, and district as a whole.
Yellow Belt Certification: A professional development initiative that directly contributes to student success.
Green Belt Certification: A team-based development program that improves performance and reduces costs.
Lean Six Sigma Experts of New Jersey's approaches have grown to become one of the most widely utilized tools for improving business practices and growth in the industry, surpassing many others. Several high schools around the country now teach and implement the discipline as a function of their performance, and we are the masterminds behind the successful strategy. We deliver Lean Six Sigma Yellow Belt and Green Belt Certification for high school students.
Lean Six Sigma New Jersey Curriculum For High School Students
A Yellow Belt is usually not needed for Green Belt Certification. If you chose us though, we require that all high school students be trained and accredited in Yellow Belt before moving on to the Green Belt level. This is attributed to their lack of knowledge and experience – students are technically underqualified.
The best in the Business (Consulting and Training)
Working with us will allow you to obtain new and advanced Lean Six Sigma certifications for your High School Students at a low rate. Our trainers, advisors, and specialists are the finest and most reliable – and inquiring is completely open. Look no further if you're looking for the best and most reliable company to provide high school students with training and certification. Working with us would ensure that you have the support and advice you need at all times.
Contact us or send us an email for assistance and answers to all of your concerns regarding Lean Six Sigma for high school students!

FAQ's
In comparison to the company's corporate system, Six Sigma systems match their arrangement. At each step of the organizational structure, roles and duties are delegated. Green Belt is the foundation of USC Six Sigma.
Green Belt
Green belts are the foundation and partners of the Lean Six Sigma Process. Problem-solving, data acquisition, data interpretation, variance, method ability, and cost analysis are all skills they possess. Green Belts also collaborate with larger companies and lead smaller projects with Black Belts.
Black Belt
Six Sigma Black Belt is a tool for utilizing mathematical processes. Black Belts are experts in the use of mathematical techniques and a thorough knowledge of science that have undergone rigorous training. The function of the Black Belt is to identify openings, lead programs, and tutor the Green Belts.
Master Black Belt
Master Black Belts are experts who oversee a company's overall strategic implementation. The Master Black Belt's responsibilities include educating and mentoring Black Belt and Green Belt employees, as well as assisting in activity prioritization and the selection or chartering of high-impact programs.
Champion
During ventures, Six Sigma Champions provide guidance, resources, and assistance in removing obstacles. Lean Six Sigma processes, calculations, and techniques are common to the Champions.
We hold state-wide Lean Six Sigma curriculum courses for high school students. The curriculum is the world's most innovative student program. Students have been able to use their newly learned talents in their research and other aspects of their life as a result of our educational approach. Students earn a standardized award after each program certification to celebrate their achievements. The State of New Jersey's education system, champion, and student trained coach/teacher all support Lean Six Sigma.
During the certification process, our workshops and services are available to instructors, employees, and districts. We've designed the course to be adaptable to every environment, and we've included a great way to incorporate it into your existing program. We illustrate how students utilize this interactive integrative process to gain practical knowledge in each course and customize it for different facets of their lives as Lean Six Sigma continues to be promoted in public schools in New Jersey.
We help companies of all sizes run more efficiently and satisfy consumers by providing perfect goods and services. Our Lean Six Sigma Experts have extensive expertise and practice in the fields of Lean and Six Sigma. We are proud to be the largest association of practitioners in process management in the state.
Our team of experts is ready to answer any concerns you may have about implementing Lean Six Sigma in your school or district. For those involved in learning Lean Six Sigma and wanting to upskill themselves, their learners, and colleagues, we give a no-obligation-free quotation. Give us a call today to see if we can help you take your school to the next level. With lots of practical hands-on experience, we know exactly what is required in all types of schools to minimize waste and increase your efficiency. Stop worrying about cutting costs and rather become more effective with Lean 6 Sigma.
There are so many areas or regions where we offer these services with most of them being cities.
However, if you need any of these services, you need to contact us. The list below comprises the areas where we offer these services.